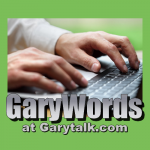 GARYTALK.COM (11/29/2015) – From time to time I will likely include a variety of ideas and not necessarily related comments in my Garywords at Garytalk.com. Some of the combination of words will be sentences which are stimulated by my reactions to posts I see on Facebook or Twitter. Occasionally some of these posts by my friends, relatives and people who follow me, or whom I follow, compel me to add a comment or two. Here are just three occasions from one recent Sunday afternoon.
Here's what started it all on this day.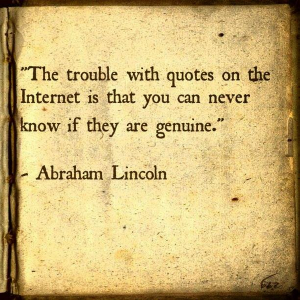 It's obvious, Abe could never have said this, because the internet had yet to be created many years down the road. Therefore, Lincoln's so-called quote proves "the trouble with quotes on the internet". I mention this, only because, some people may believe the quote as "genuine", even though, upon deeper thinking, it is logically, impossible for him to have said or written it, therefore, it is illogical, logic. (Sorry. I sometimes fall into wordy, wordiness, and, this seems to be one of those occasions.)
Then, there was the post of a Facebook Friend that showed a video that was a Share of a Share. It showed a couple of guys loading firewood into the basement using an exercise treadmill switched on reverse. It was sending the wood into the basement. When I was a youth, many decades ago, I used to throw wood down in the basement for my grandparents, without the assistance of this amazing utilization of a treadmill. It would have been appreciated, but, it was so long ago that treadmills probably were not invented yet.
One of the people who commented on that Share wondered if there were four guys down inside the basement to stack the firewood up immediately. I'm sure that person was thinking, as I was, that the two guys outside were throwing down so much firewood, so swiftly, with the aid of that treadmill, that, surely there must be a huge pileup down below.
I agreed with the above persons comment, but there are many people with opposite sentiments that one has a hard time agreeing with, particularly, politically speaking. One of my Facebook Friends posted a lengthy description of how he had a Facebook argument over differences regarding United States President Obama and whether the latest surge of immigrants from across the sea should be allowed to immigrate into the United States. Apparently the written Facebook argument had escalated to a relative or two UnFriending him, or blocking him. I hope he and his relatives can patch up their relationship.
There are some of my Facebook Friends who I do not agree with. Even some of my relatives have a different favorite side of the political outlook. So far, during the last five years of my journey on Facebook, I have not unfriended anyone, nor blocked anyone, no matter how much I disagreed. This is not to say that some of my Facebook Friends may not have UnFriended me at one time or another. If the latter is the case, I am only aware of one close relative who has done so, apparently due to a political viewpoint she doesn't share. One of those cases of "you can have your own viewpoint, but, not your own facts, please". However, it was her choice to UnFriend me, not mine.
This country was, ultimately, created so people could have different opinions, and, many of us often exercise that right every day, in nearly every way. That doesn't mean they are wrong and I am right, it just means they see things differently. (However, between you and me, they are sometimes misguided.) The neat thing is, occasionally, we do agree on some things, and, doesn't that feel sooooo good when it happens.
Just the same, you know, sometimes I wonder which side, some of them would be on, if we ever have a Civil War again in the USA.
GaryWords by Gary W. Morgan at Garytalk.com

Other Recent Posts
Looking Back: Many Religions And A Few Arrogant Attitudes

GARYTALK.COM – From time to time, we reach back into some earlier commentary made a few years ago and republish it here. The following is from a blog I wrote on December 12, 2012 during the years our United States President was Barack Obama. […]

Former Congressman Dave Obey is An Octogenarian

GARYTALK.COM – David Obey celebrated his 80th birthday October 3rd, 2018. For those of you who may not remember Dave, he was a United States Congressman, representing the Wisconsin 7th Congressional District in the United States House of […]