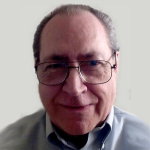 GARYVIDEOS at GaryTalk.com – Wondering about overcrowded jail problems in a Wisconsin detention facility at the turn of the century and how the 911 incident affected state law enforcement? There are interesting facts and info about that from nearly twenty years ago in a recently posted discussion with then Wood County, WI Sheriff Kurt Heuer. Heuer talked with Gary Morgan in a videotaped conversation in 2002 about the 9/11/2001 incident, anti-terrorist precautions, the need for additional jail space, and shipping prisoner overflow to outside jails while the county attempted to raise funds for a new jail, and more.
Former Wisconsin broadcaster Gary W. Morgan produced an interview program for the Wisconsin Rapids, WI public access channel following his year 2000 resignation from the WFHR news department at the Wisconsin Rapids, Wisconsin station owned by Bliss Communications, Janesville, Wisconsin, at the time. After covering state politics as a news person for several decades, Gary had resigned to enter a race to be the Democratic Party candidate to possibly fill a seat in the Wisconsin State Assembly. Gary lost the primary and instead entered into a state of semi-retirement.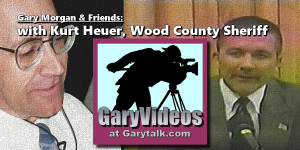 During semi-retirement, Morgan produced several episodes of a videotaped program called The Gary Morgan Show for the local public access channel seen on the cable tv system for viewers in the communities of Wisconsin Rapids, Nekoosa, and Port Edwards. The program was similar to the type of show he had done for the Wisconsin Rapids radio station and other radio stations in the state. The major difference was that it did not include paid commercials, and, it was recorded on VHS videotape for later viewing on the public access channel.
This is episode 4 in the series of shows in which Gary had conversations with some of the friends gained over the enjoyable ten years he had spent as the afternoon news anchor, reporter, and air personality at WFHR. Unfortunately, the videotape quality from nearly 20 years ago has not held up too well. However, we have done our best in our attempt to transfer the videotaped shows with historical content to digital for viewing on computers, large and small.
The career of Central Wisconsin native Kurt Heuer also included several years as Wisconsin Rapids Police Chief.
The complete 2002 Gary Morgan & Friends conversation with Kurt Heuer is also available on the only authentic McStreamy Video Channel on YouTube, along with separate conversations with longtime Wisconsin Assembly Representative lawmaker and Democrat Marlin Schneider, Wisconsin Rapids, WI, and then fresh new Assembly face in the form of MaryAnn Lippert, Pittsville, Wisconsin, and former Wood County Board chairman Bill Goodness. You can also view all of the shows here in the GARYVIDEOS section of GaryTalk.com.
GaryVideos at GaryTalk.com.

---
Gary W. Morgan Written Articles On Other Websites:
2023 Rock Hall of Fame Winners!

THE FINAL TABULATION of 2023 Nominees to the Rock and Roll Hall of Fame finds a mixed list of results, some expected, others less so. Performer Category: Kate Bush, Sheryl Crow, Missy Elliot, George Michael, Willie Nelson, Rage Against the Machine, and The Spinners. Musical Influence: DJ Kool Herc, Link Wray. Musical Excellence: Chaka Khan, […]

April Born Stars Get More GreatGold Plays!

WE HAVE APRIL B-DAY STARS: Hear http://GreatGold.fm Classic Hits on the player on our website page at http://GreatGold.fm/player/ OR listen to GreatGold in LIVE365, TuneIn, SimpleRadio, etc. apps. GreatGold is giving Extra Plays to singers and musicians with April Birthdays. APRIL BIRTHDAY BUDDIES RULE: GreatGold.fm Internet Radio is shining a spotlight on musical contributions of […]

March Means Spring and More Classic Hits!

THE MONTH OF MARCH brings us closer to Spring weather and birthday celebrations for all of the wonderful singers, musicians, songwriters and other people behind the scenes who have made it possible to enjoy the GreatGold.fm Internet Radio stream full of tunes from musicmakers born in March over the years. March is also the mont […]