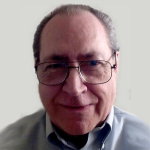 GARYTALK – You're invited to a video from the history book of a Wisconsin county smack dab in the middle of the state. Back in the year 2002, then recently retired Wood County, Wisconsin, County Clerk Tony Ruesch and I recorded a conversation for viewing on the River Cities Public Access Channel in Central Wisconsin. I had also recently retired from my news position at WFHR radio in Wisconsin Rapids. During ten years at WFHR, I had interviewed newsmakers on-air, daily. The following is similar to the kinds of audio conversations I often had for WFHR audiences and on other stations around the state during my radio career, except this is with moving pictures.
This conversation took place after Tony (Anthony) Ruesch retired from serving as Wood County, Wisconsin County Clerk in 2002, following a tenure that began in 1982. Tony had been a Wood County Board Supervisor for ten years prior to running for the County Clerk position so was into things involving county board actions for 30 years.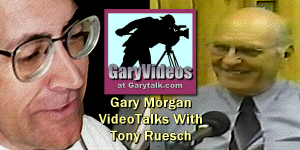 Wood County is the county in Central Wisconsin that is comprised of the area in which the communities of Wisconsin Rapids, Marshfield, Pittsville, Arpin, Auburndale, Blenker, Milladore, Junction City, and Sherry are located. Gary Morgan was the host of the talk show that was seen on the River Cities Public Access Channel in the communities of Wisconsin Rapids, Nekoosa, and Port Edwards in the southeast corner of the county.
This episode of the program was originally seen during the year 2002. Gary had retired from several decades of reporting on local, county, and state news on broadcast radio stations in several Wisconsin cities during his career. He had worked at stations in Neillsville, Merrill, Rhinelander, Tomahawk, and Rice Lake before spending the last ten years as afternoon news anchor-reporter at WFHR-AM, Wisconsin Rapids, Wisconsin, in the city in which he was born many years earlier, back in 1943.
This program was recorded on VHS videotape and was transferred to digital to be viewed on computers and smartphones. This episode can also be seen on the video offerings under Gary & Friends at the official McStreamy.com Video Channel on the internet at YouTube.
GaryVideos at GaryTalk.com.

---
Gary W. Morgan Written Articles On Other Websites:
2023 Rock Hall of Fame Winners!

THE FINAL TABULATION of 2023 Nominees to the Rock and Roll Hall of Fame finds a mixed list of results, some expected, others less so. Performer Category: Kate Bush, Sheryl Crow, Missy Elliot, George Michael, Willie Nelson, Rage Against the Machine, and The Spinners. Musical Influence: DJ Kool Herc, Link Wray. Musical Excellence: Chaka Khan, […]

April Born Stars Get More GreatGold Plays!

WE HAVE APRIL B-DAY STARS: Hear http://GreatGold.fm Classic Hits on the player on our website page at http://GreatGold.fm/player/ OR listen to GreatGold in LIVE365, TuneIn, SimpleRadio, etc. apps. GreatGold is giving Extra Plays to singers and musicians with April Birthdays. APRIL BIRTHDAY BUDDIES RULE: GreatGold.fm Internet Radio is shining a spotlight on musical contributions of […]

March Means Spring and More Classic Hits!

THE MONTH OF MARCH brings us closer to Spring weather and birthday celebrations for all of the wonderful singers, musicians, songwriters and other people behind the scenes who have made it possible to enjoy the GreatGold.fm Internet Radio stream full of tunes from musicmakers born in March over the years. March is also the mont […]