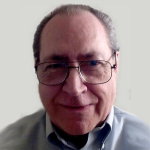 GARYVIDEOS – Looking Back On My Life, I remember the time I conducted a videotaped conversation with former Wood County (Wisconsin) Board Chairman Bill Goodness on the River Cities Public Access Channel in Wisconsin Rapids, WI. The interview took place after my year 2000 retirement from my News Anchor-Reporter position at WFHR Radio. The analog VHS tape recording of that interview has now been transferred to digital for viewing on computers, tablets, laptops, and wireless smartphones. One of the topics included how redistricting following the 2000 Census resulted in causing seasoned county board supervisors, including Bill Goodness, to lose their seats. The redrawn borders moved the homes of several supervisors, forcing them all to run against each other.
The complete 2002 Gary Morgan & Friends conversation with William Goodness is now available on the only authentic McStreamy Video Channel on YouTube, along with separate conversations with longtime Wisconsin Assembly Representative lawmaker and Democrat Marlin Schneider, Wisconsin Rapids, WI, and then fresh new Assembly face in the form of MaryAnn Lippert, Pittsville, Wisconsin. You can view all of the shows here in the GARYVIDEOS section of GaryTalk.com.
GaryVideos at GaryTalk.com.

---
Gary W. Morgan Written Articles On Other Websites:
Ruth Bader Ginsburg Could Not Hold On Until Nov. Election

McSTREAMY.COM NEWS – The United States Supreme Court's Ruth Bader Ginsburg (above) passed away Friday, September 18, 2020, at the age of 87 following a stellar law career which led to being nominated and placed on the court in 1993. Ruth Bader Ginsburg was the second woman to be sworn into the Supreme Court and […]

Crow Song "In The End" asks Is It Too Late To Turn Back?

McSTREAMY NEWS – Music has often through the years helped us understand life and our roles in it somewhat clearer at times. Such is the experience one might have when listening closely to a Sheryl Crow song in a video released on September 3, 2020, on YouTube. In the Sheryl Crow song, she asks, "Is […]

Crikey! Little Bindi Irwin and Husband Are Preggers!

McSTREAMY News – It's amazing that little Bindi Irwin, the offspring of television's The Crocodile Hunter Steve Irwin and wife Terri Raines, is not only married but on her way to being the mother of a little bouncing baby herself. The 22-year-old former season 21 "Dancing With The Stars" champion is seen in this selfie […]