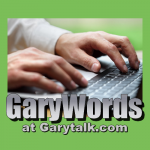 GARYWORDS is the place on Garytalk.com to find a combination of internet blog posts from the past, present and future. These writings are largely observations, commentary, musings and opinions of Gary W. Morgan. Gary is a semi-retired radio, newspaper and internet news reporter, personality and commentator who now does it all on the internet since 2001.
Gary's internet nickname is GabbyGary, which he has used for several decades. It is derived from his teen years when his mother remarked that he had "the gift of gab" and confirmed years later when a radio station manager complained to the program director that Gary was "too gabby" on the air. The feature, or condition, proved useful when the station switched formats from a lot of music and little talk, to a lot of talk, news, sports, and very little music.
To learn more about Gary Morgan see the information about GabbyGary under each GaryWords commentary or any other content attributed to GabbyGary at Garytalk.com. Thanks for your interest.

You May Also Enjoy: