GARYTALK.COM (05/13/2016) – Best selling author, radio-tv personality, speaker, and one-time game show contestant, Dr. Joyce Brothers, died during May of 2013, at the age of 85. One of the most outstanding moments in my life was the time I did an in person, on location, radio interview with Dr. Joyce Brothers when she appeared at a Central Wisconsin convention at the old Holiday Inn in Stevens Point, WI, back in the mid 1990s.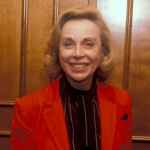 Dr. Brothers was gracious, friendly, conversational and a true delight. I had requested to record her speech to the event-goers, as I had done at events featuring many other local, state, and national newsmakers and celebrities. However, Brothers said "no". When she told me that, with a serious look on her face and an apology in her eyes, I was crest fallen.
I had traveled to the event with the sole purpose of bringing back a cassette tape full of interesting comments from Dr. Brothers for radio listeners. She said her contract would not allow recordings of the speech, but, she was willing to answer a few of my questions out in the hallway, before she was called to speak. Relieved, we found a quiet corner of the hallway and ended up having a discussion on tape that included more than "a few questions".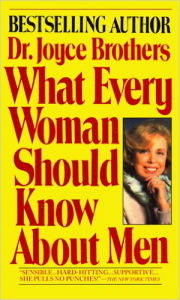 The interview was aired in its entirety on the Michaels and Morgan Radio Show on WFHR, one of the oldest and well-respected stations in Wisconsin. I also fed pieces of the interview to other stations through the Wisconsin News Actuality Network. I may have the actual tape recording somewhere in my personal collection, if lucky. If so, I may run across it someday and transfer it to a digital recording so you can hear it here on the internet, along with other recordings of conversations made in the 1990s.
I found Dr. Joyce Brothers to be a truly warm, down to earth, person who obviously believed in eye contact as we talked. She was as nice to me as she always seemed in appearances on television.
Dr. Joyce Brothers was an American psychologist, television personality and columnist, who wrote a daily newspaper advice column from 1960 to 2013. In 1955, she became the only woman ever to win the top prize on the American game show The $64,000 Question, answering questions on the topic of boxing. During her career she wrote several books, including "What Every Woman Should Know About Men", "How To Get Whatever You Want Out Of Life", and "Widowed".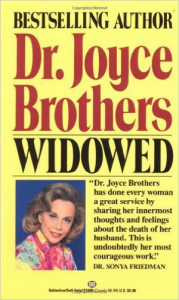 In "Widowed", Dr. Brothers shared her innermost thoughts and feelings about the loss of her husband, Milton Brothers, in 1989 to cancer. The couple had been married since 1949 and had a daughter named Lisa.
After seven weeks on the popular television quiz show, "$64,OOO Question", DR. Brothers became the second person, and only woman, to win the $64,000 top prize. Two years later, Brothers appeared on a successor program, The $64,000 Challenge, which matched the contestant against experts in the field. Brothers walked off with the maximum prize from that show, too. Her success on The $64,000 Question earned Brothers a chance to be the commentator for CBS during the boxing match between Carmen Basilio and Sugar Ray Robinson. She was said to have been the first woman boxing commentator.
In 1959, allegations that quiz shows were rigged, due to the Charles Van Doren controversy on the quiz show Twenty One, began to surface and stirred controversy. Despite these claims, Brothers insisted she had not cheated, nor ever been given any answers to questions in advance. During a 1959 hearing in the quiz show scandal, a producer exonerated her of involvement.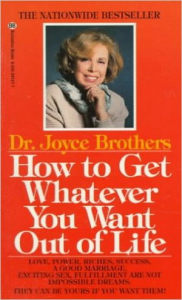 Dr. Brothers is credited with starting the trend toward television shows about relationships and influencing many of the talk show specialists who followed her. She also wrote a monthly column in Good Housekeeping magazine for almost four decades, and a syndicated newspaper column that she began writing in the 1970s. At it's height her newspaper column was printed in more than 300 newspapers.
The television personality part of Dr. Joyce Brothers life, found her on many diverse tv programs, such as, The Match Game, The Bold and The Beautiful, Diagnosis Murder,  The Nanny, The Larry Sanders Show, Melrose Place, Baywatch, Pickett Fences, Frasier, Live with Kelly and Michael, Night Court, Alf, Moonlighting, ChiPs, Taxi, Charlie's Angels, Bob Hope Show, Dinah!, Hollywood Squares, WKRP In Cincinnati, Happy Days, The Tonight Show starring Johnny Carson, and many other appearances.
Meeting and talking with Dr. Joyce Brothers was one of several hundred "brushes with greatness", big and small, I was privileged to have during my career in broadcast radio. I do hope, one day, I will find the time to dig into the several, packed away, boxes of loose cassettes I possess, so I can share her perspectives in that unique, one of a kind, conversation, with you.
GARYWORDS by GabbyGary at Garytalk.com