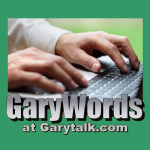 GARYWORDS is the place on Garytalk.com to find internet posts from the past, present,  and future. The writings are observations, commentary, musings, and opinions of Gary W. Morgan, a semi-retired radio, newspaper, and internet news reporter, personality, and commentator.
This section of the website contains several essays. More are added when the spirit moves.
Please check back from time to time to see what's on Gary's mind now.
Thanks for your interest.
Get The Latest GARYWORDS Entries