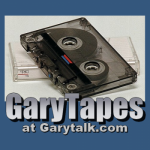 GARYTAPES is the place on Garytalk.com where you can find audio recordings of radio conversations from the past. These historical conversations are with authors, politicians, newsmakers, and other people of interest who interacted with Gary W. Morgan while he was employed within the broadcast radio industry. The discussions originally aired during the final decade of the 20th Century.
The first GARYTAPES entry is ready to hear over the internet in nearly any browser. The initial recording in our GARYTAPES section was made available online on this website, February 18, 2017. Other audio recordings of conversations heard on the air will follow. However, please be patient, as it will take time to transfer the original cassette tapes to MP3 format so you may hear them over the internet. When additional recordings are ready to be heard, they will be listed for your selection.
Thanks for your interest.